PassaPaïs and Véloccitanie
The Véloccitanie (V84) is a 237 km cycle route, which joins the Canal des 2 mers (V80) and runs through the Lauragais countryside, the Haut-Languedoc landscapes and the Faugères vineyards. The professionals along this route have created the PassaPaïs-Véloccitanie association to offer you quality services, committed to respecting the environment. They are available for you on this pleasant route all year round.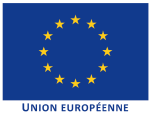 Ce site internet est cofinancé par l'Union européenne. L'Europe s'engage dans le Massif Central avec le Fonds européen de développement régional.